"Beautiful for situation, the joy of the whole Earth is Mount Zion, the city of the great King."
âÌÈãåÉì éÀäåÈä åÌîÀäËìÌÈì îÀàÉã-- áÌÀòÄéø àÁìÉäÅéðåÌ, äÇø-÷ÈãÀùÑåÉ.
Psalm 48.2
We are a small and friendly synagogue family of about 70 families, most of who are retired people who enjoy sharing the experience of prayer, learning and spending time together at the Valley Stream Jewish Center.
Our synagogue belongs to the United Synagogue of Conservative Judaism, which means we seek to carry on the traditions of Judaism in all its beauty and wisdom, all the while being open and immersed in the changing world and society in which we live. We encourage the study of Torah and the practice of Judaism throughout our lives. We open our hearts and minds to Jewish observances, both new and old - including Shabbat and Holy Days, Kashrut and daily prayer, and we cultivate strong and heartfelt connections to our people in Israel and our fellow Jews all over the world.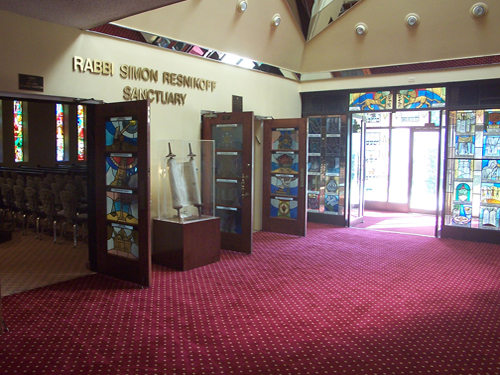 About Rabbi Yechiel (Joel N. Buchband)
Hillel says: Be a disciple of Aaron - loving peace and pursuing peace, loving your fellow creatures and helping them become close with the Torah.

Rabbi Yechiel came to Valley Stream in 2004 with many years of rich Jewish experiences behind him. He is devoted to keeping the Valley Stream Jewish Center a warm home for our synagogue family, in which spiritual growth, Jewish observance and Torah learning can be experienced in the most authentic and enjoyable way possible.

Rabbi Yechiel grew up in Woodbridge, NJ where he and his family were part of a strong Jewish community led by Rabbi Milton Kula of Cong. Adath Israel. As a devoted student, young Yechiel learned to use his pleasant singing voice as a prayer leader and Torah reader, and was also blessed to experience the beauty of Shabbat with Rabbi Kula�s family. Active in the USY youth movement, Yechiel also was able to make lifelong friendships with other young Jews with whom he shared a deep commitment to Judaism and the Jewish people. In his final year of high school, Yechiel served as the president of the New Jersey Region of USY (United Synagogue Youth). He would continue as an adult leader at USY encampment and on USY Pilgrimage to Israel for several more years.

His college years were spent on Manhattan�s Upper West Side, where he lived, studied and was part of the intense Jewish community of the Jewish Theological Seminary. While earning a BA there in Judaic Studies, Yechiel also studied history at Columbia University, from which he graduated in May 1983, in the very same ceremony at which Barack Obama received his degree.

For Yechiel, the process of becoming a committed and observant Jew brought with it a profound sense of wonder at the story of the Jewish people and its journey through history. The fulfillment of millennial hopes and prayers in the return to the land of Israel, and the growth there of a new Jewish state and thriving Jewish society where millions of Jews use Hebrew as their language, live their lives by the Jewish calendar, and do military service in a Jewish army � this is the uniquely compelling Jewish experience of our times. Yechiel resolved to make Israel his home, and in fact made aliyah just after graduation from college.

Rabbi Yechiel lived in Israel for twenty years. He served for two years in the Israel Defense Forces in the IDF Spokesman�s unit, the press office of the Israeli military; like most Israeli men, he also served in the active IDF reserves for many years. In Israel Yechiel continued his life-long Jewish learning � at the Schechter Institute (the Conservative seminary in Jerusalem) and at the Shalom Hartman Institute�s pluralistic Talmud program in Tel Aviv. Yechiel was deeply moved by the approach of Institute�s founder, Rabbi David Hartman, who believes that Torah is the fundamental source of Jewish life, and that helping Jews experience Torah once again as a powerful and vital force in their lives is the central challenge of our time. Yechiel was inspired to take up this challenge and devote himself to sharing Torah with his fellow Jews.

In Israel, Yechiel began his career in synagogue life as the quasi-rabbinic leader of Tiferet Shalom, a Masorati (Conservative) community in north Tel Aviv. It was while serving the people of Tiferet Shalom for fourteen years � teaching and learning with people of every age � that the rabbinate found Yechiel.

Yechiel returned to the New York area in 2003 to complete his rabbinical studies at the Academy for Jewish Religion (www.ajrsem.org). In its warm and supportive pluralistic community, students and teachers from across the Jewish spectrum experience spiritual growth, intellectual challenge and professional development. Yechiel feels blessed to have been part of AJR�s unique Torah-centered community, and is proud to have received his smichah (ordination) there in May 2007.

It was through the good offices of AJR, that Yechiel came to serve the Temple Gates of Zion and the Jewish community of Valley Stream. From their very first meeting and Shabbat together, Yechiel and the people of Gates of Zion felt they have �chemistry� � we share the same devotion to authentic Jewish living and learning, to maintaining a synagogue community which is warm and supportive, and to expressing our solidarity with our fellow Jews throughout the world and in Israel. From the start, Yechiel felt at home and at one with the wonderful Jewish family of Valley Stream Jewish Center.

Yechiel enjoys serving our synagogue community. He brings his warmth and learning to teaching Bible, Hebrew and Siddur (prayerbook) in our adult education program. He brings his enthusiasm and devotion to leading us in prayer and in Torah study on Shabbat. And as counselor and chaplain, his understanding and caring nature are a source of strength and solace as we face life�s challenges, joys and sorrows. Rabbi Yechiel is a gifted and devoted spiritual leader of whom we are justly proud

and who is and who is proud to serve our community

.